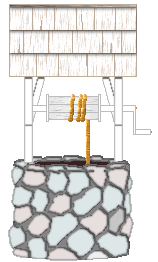 "A wish shared is a wish well on it's way to being fulfilled!"
~Faery Blessings~

Blowing in the Wind Spell
Lovely breezes and windy days can be used to connect with the magical element of Air and this magick charm is one that anyone can easily do for themselves and their friends. On a breezy day, find a piece of blue material or ribbon and tie one end to a fence, a tree branch or a clothesline. Then, as you watch the ribbon fly and wave in the wind, repeat these words out loud,


"Blow laughing winds from North and South, from fairy lands and East to West, I'll be happy as I say send me magic every day,"

You can leave the ribbon there for as long as you like and add any others to it for a magickal message to family and friends.

Sweet Dreams Spell
To help you sleep peacefully and have pleasant dreams, create a tranquil and calming environment for your bedroom. The windows should have either curtains or walls that are light coloured or pastel tones and make sure the bed head is well away from the door. Cleanse the atmosphere of your room by holding a sprig of lavender and walking through the room with a peaceful mind and heart. At bedtime turn off everything in the room that could be distracting or disturbing, like television and loud music or radios. Put a lavender sachet under your pillow and before go to sleep say to yourself,


"Feather light on starry night, cosy warm and tired, pleasant dreams and sweetest thoughts as little angels smile."

A Recipe to See the Fae
On a Dawn morn or dusk eve, find a special bottle, a pretty one the Fae would like that is.
And pour into it
1 cup gathered spring or rain water
1 teaspoon of Pink Rose petals
teaspoon Lavender flowers
Add 3 Quartz crystals
Add 3 Amethyst Chips
1 pinch of Faery sugar (see recipe below)
Nine inch piece of pink ribbon

Now hide this away in a dark cool place for three days. On the third day, again at dawn or dusk, in a place you think you might spot the Fae, like an Oak tree, backyard or mushroom patch in the forest. Even a potted plant, herb or Flower will do. Tie a nine inch piece of Pink ribbon arond bottle neck. Next, close your eyes and sprinkle 9 drops over each eyelid of your Faery Potion Water, careful not to get it IN your eyes! Next recite this Faery incantation and watch for the Fae.


Ribbon of pink, I just might think.
I would like to see the Fae today.
Special sight of Faerys flight,
Send to me the way today.
A sprinkle here a sprinkle there,
A secret spell I say today.
Wispy wings and little things,
Are what Id like to see today.

Fairy Love Bag
This bag is made and worn next to the heart. You must concentrate on the one you want to love you while wearing this. You will combine the following ingredients and place them in a red bag or piece of red cloth. A small amount of each will do.

Piece of Orris Root
Passion Flower
A Beryl Stone
Lavender
Cloves
Rose Petals
Hair or Nails (from person desired)

Spicy Love Drawing Oil
*5 drops Rose Geranium
*4 drops Lavender
*3 drops Rosemary
*2 drops Camomile
*2 drops Cinnamon
*1/2 oz. Carrier Oil

Mix and wear to to attract love!


Alive
Ingredients Needed:

*10 flower petals (red petals work best)
*Red paper
*Lavender Oil
*Your favorite fragrance
*Water

EquipmentNeeded:

*Scissors
*Pen
*Large Bowl

1) Put on a song that best describes him/her. Play it very softly while you are doing this spell. Don't think about anything else but that person.

2) Using a pen draw 5 hearts on the piece of red paper.

3) Then cut them out.

4) Write down on one side of each heart, one thing you love about him/her (her hair, his voice, etc...).

5) On the other side of each heart write down your name.

6) Fill the large bowl with warm water.

7) Add 10 drops of Lavender Oil.

8) With one flower petal, write your name in the water.

9) Then sprinkle the petals and the hearts in the bowl.

10) Spray some of your favorite fragrance on your wrist.

11) Place your hands to the bottom of the bowl so that your wrists are under the water.

12) Then think about all the things you love about him/her as you swirl your hands around the water and chant this 5 times:




See me as your love,
Hear me as your friend.
Feel that I am alive,
With all the love I send.

13) Then lie down listening to the song, thinking and believing that you will be together.