Welcome to my fantasy Fairy world!
Fairies are the most beautiful and most intreaging beings.
It's everyones choise either to beleive or not in fairies!
Beleiving in them, let's you beleive in the most magical thing's of all!
Let your Spirit be Free and just say
"I BELIEVE!"
Oh, Where Do The Fairies Hide?
Oh, where do fairies hide their heads
When snow lies on the hills,
When frost has spoiled their mossy beds,
And crystallized their rills?

Beneath the moon they can not trip
In circles o'er the plain;
And draughts of dew they cannot sip,
Till green leaves come again.

Perhaps in small blue diving bells,
They plunge beneath the waves,
Inhabiting the twisted shells
That lie in coral caves.

Perhaps in red Vesuvius,
Carousals they maintain;
And cheer their drooping spirits thus,
Till green leaves come again.

When they return there will be mirth,
And music in the air,
And fairy wings upon the earth,
And mischief everywhere.

The maids, to keep the elves aloof,
Will bar the doors in vain;
No keyhole will be fairy proof,
When green leaves come again.

~~~Writen By Thomas Haynes Bayly~~~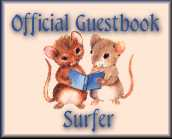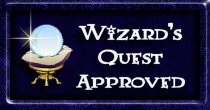 Vote for me at the Wizards Quest Top Spirit Pages!
~~~~~Disclaimer~~~~
I take no credit for the creation of any of the graphics on this site, unless stated otherwise. Please refer to the credits page for the creators of the items that I used. If you see a graphic that you created and do not see your banner on my Credits/Favorites page, please feel free to contact me and I will gladly link you or remove the graphic.