The Mocking Fairy
By
The Mocking Fairy
'Won't you look out of your window, Mrs. Gill?'
Quoth the Fairy, nidding, nodding in the garden;
'Can't you look out of your window, Mrs. Gill?'
Quoth the Fairy, laughing softly in the garden;
But the air was still, the cherry boughs were still,
And the ivy-tod neath the empty sill,
And never from her window looked out Mrs. Gill
On the Fairy shrilly mocking in the garden.
'What have they done with you, you poor Mrs. Gill?'
Quoth the Fairy brightly glancing in the garden;
'Where have they hidden you, you poor old Mrs. Gill?'
Quoth the Fairy dancing lightly in the garden;
But night's faint veil now wrapped the hill,
Stark 'neath the stars stood the dead-still Mill,
And out of her cold cottage never answered Mrs. Gill
The Fairy mimbling, mambling in the garden.




If You See A Fairy Ring
If you see a fairy ring
In a field of grass,
Very lightly step around,
Tip-Toe as you pass,
Last night Fairies frolicked there
And they're sleeping somewhere near.
If you see a tiny fairy
Lying fast asleep
Shut your eyes
And run away,
Do not stay to peek!
Do not tell
Or you'll break a fairy spell.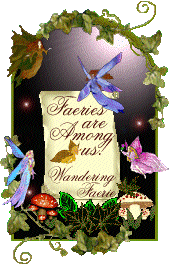 The Child and the Fairies
The woods are full of faeries!
The trees are all alive;
The river overflows with them,
See how they dip and dive!
What funny little fellows!
What dainty little dears!
They dance and leap, and prance and peep,
And utter fairy cheers!
I'd like to tame a fairy,
To keep it on a shelf, and dress its little self.
I'd teach it pretty manners,
It always should say "please",
And then you know I'd make it sew,
And curtsy with its knees.
I'd Love To Be A Fairy's Child
CHILDREN born of fairy stock
Never need for shirt or frock,
Never want for food or fire,
Always get their heart's desire:
Jingle pockets full of gold,
Marry when they're seven years old.
Every fairy child may keep
Two strong ponies and ten sheep;
All have houses, each his own,
Built of brick or granite stone;
They live on cherries, they run wild--
I'd love to be a Fairy's child.
Written By Robert Graves, 1918
In Fairyland
The fairy poet takes a sheet
Of moonbeam, silver white;
His ink is dew from daisies sweet,
His pen a point of light.

My love I know is fairer far
Than his, (though she is fair,)
And we should dwell where fairies are,
For I could praiser her there.


JOYCE KILMER

Realm of Twilight
As the sun sinks neath the 'rison
And the stars begin to shine
Comes the Realm of Twilight
A joyous, magic time

A light a tiny lady
Floats and dances in the air
And becons you to follow
As she flies without a care

You find your spirit soaring
As the world fades in the mist
But you care not for it's passing
For you were born for this

Written By Maiden Fair